The Kingdom Writers Course Will Help You Get Your Book Out of Lockdown!
Become a Successful Published Author.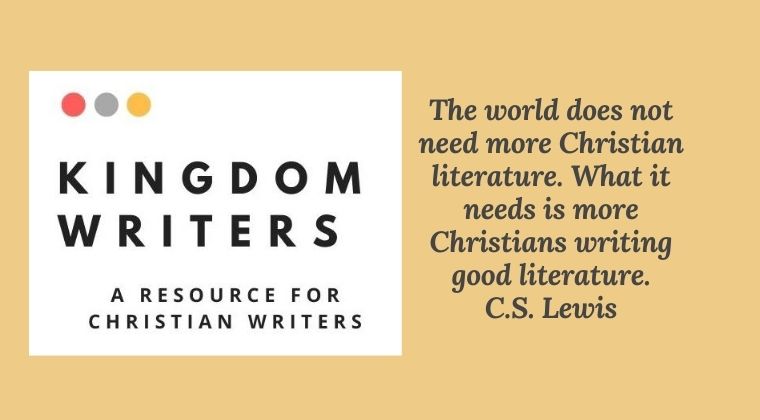 If you want to get published now…
See fast results
Save money with free publishing on Amazon and other online bookstores
Enjoy worldwide sales
Become an international author
Earn a passive income for life
…then the Kingdom Writers Course is for you!
This course gives you everything you need to know to get published now. Successfully publish your book with Amazon, the world's largest bookseller, as well as other online bookstores.
You will discover how to prepare your book for publishing, design a cover, have your book professionally formatted without charge, and published on a number of online bookstores including Amazon. Automatically receive royalties in your local bank account plus monthly sales reports. Once your book starts selling, the system will only require a small portion of your royalties for doing all the heavy lifting. This is a win-win situation.
The lockdown made me realize how many people became familiar with digital books. When they could not order physical books, thousands turned to the free Kindle app on their digital devices (smartphone, tablet, iPad, computer, smartwatch). They really enjoyed the speed and convenience of reading books within 60 seconds of purchasing them from Amazon and other online stores. Now things are easing a little in many countries, many readers are still preferring digital books for the same reasons. This is an incredible opportunity for you to share your passion.
I know publishing digitally seems confusing for so many authors. To get published now and have your book properly formatted, uploaded to Amazon and other digital stores, and receiving royalties look like major hurdles. This course will guide you to guaranteed publishing success if you follow the steps closely.
Discover how to…
Write an ebook that sells.
Produce a professional cover online easily and quickly.
Get your book professionally formatted for Kindle and other online readers automatically.
Get published now.
Have your book published for you at a vast range of online stores, including Amazon.
Access your sales reports online.
Receive your royalties into your local bank account. You will not even need a USA bank account or tax ID if you are not a USA citizen.
Earn a Passive Income for Life.
Once your book is on Amazon and other online bookstores, they will be there for life. These popular online bookstores are open 24/7. People all over the world can buy your books and download them in 60 seconds.

Save Money.
Digital Publishing is free, but preparing your book for publishing can be expensive. There is "do-it-yourself" software that attempts to turn your Word document into an Ebook, but the results are often not quite what you expect. You have limited control over the look and feel of your book and can end up with a very unprofessional result.
Hiring someone to do the formatting is also expensive. You can be looking at around $300 per book. Why not concentrate on writing your book and have it formatted professionally for you without cost?
Having a properly formatted book is one thing. Knowing how to publish it on Amazon and other online bookstores is quite another. Consulting with an expert could cost you anything from $100 an hour.
This course covers everything you need to know and takes you by the hand so you can become a successful published author in hours instead of months.
How Profitable is Digital Publishing?
As of December 2017,197 million users visited Amazon's websites every month. In comparison, Barnes & Noble had 21 million monthly visitors. Publishing digitally gives you access to serious buyers.
John Locke sold over one million copies of his kindle book within five months.
Lee Child, author of the Jack Reacher novels, has sold over 100 million books. He sells a book every 20 seconds on Amazon.
Pastor Max Lucado's books have sold over 100 million copies and have occupied spots on every major national bestseller list.
"Left Behind" series. Authors Tim LaHaye and Jerry B. Jenkins to date have sold around 4 million copies.
Amazon pays 35-70% royalties on the Kindle book and 60% (less printing costs) on the paperback.
How the Kingdom Writers Course Will Help You to Get Published Now
Avoid Information Overload
Learn all this in just six sessions and get published professionally without taking out your credit card. The modules are easy to understand. Follow the directions and you will soon be earning an income online.
Avoid Frustration
This is an exciting way to begin your publishing journey. This course teaches you the right skills to successfully publish your eBook. From there you are one step away from publishing it as a paperback too.
Reach a Global Audience
The traffic on the Amazon site is huge and filled with people looking for books to read. Every digital device on the market has access to the free Kindle Reading app. Publishing with Amazon is free and fun.
Bypass the Traditional Publishing Route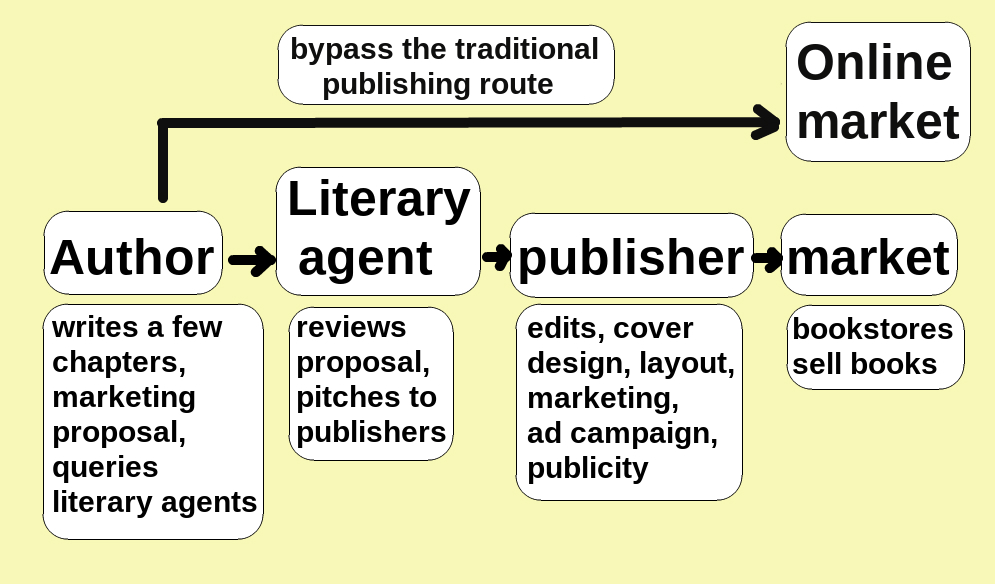 Graphic by Tomwsulcer (Wikimedia.org)
Self-publishing permits authors to bypass publishers and bookstores and sell directly to the public.
Let the Kingdom Writers Course Help You Start Your Publishing Journey Today!