Have you written a book?
Are you wondering "What Now?"

How do you get it published? Where do you start?

It is a well-documented fact that many people have a strong desire to write a book. Very few writers actually became published authors and the whole publishing process seemed to be shrouded in mystery. That has all changed now with the ease of publishing modern technology offers. Anyone may become a successful author if their book is well-written, professionally edited, and well-presented.
Much like building a house, you have to have a plan and some expertise. There are many facets to consider besides writing the book. The choice of title and subtitle, cover graphic, description, keywords to attract buyers to your book are just the beginning. Other necessary considerations include copyright, ISBN numbers, tax issues, royalties, publishing on different platforms and in various formats, and marketing... just to name a few. And then there's the USA bank account for royalties if you are not a USA citizen and you are publishing on Amazon.com and other international platforms.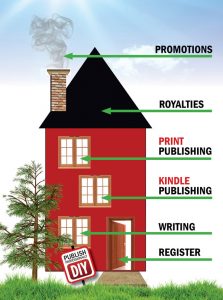 You thought you could just sit down at your computer and start writing your book, didn't you?
At the same time, you have the most incredible opportunity of publishing on global platforms like Amazon and earning royalties authors published by regular publishing houses can only dream of. You could even become an Amazon Best Seller!
I can help you achieve your dream of becoming a published author.
Click on the PUBLISHING SERVICES tab on the menu and let's get started.
To Your Publishing Success!

Publishing Consultant