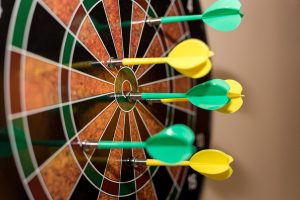 Without being focused, we are all over the place and seldom gets things done properly and efficiently. it is good to have a goal and a plan to get there, which normally involves smaller steps that take us towards completion.
One of the easiest ways to focus is with the amazing free tool called TRELLO. it is an online facility that helps manage all kinds of things, for example business or personal projects. You can use it to plan an event, keep recipes, keep track of people or things. Whatever your creative mind desires.
Life can get so busy, we tend to lose track of where we are going. I have a number of books on Amazon. Some of them are in the Kindle Select program, some are being marketed, and others need some work in these areas. I need to keep focused and a quick glance at my Trello board tells me exactly what needs to be done and when. Without Trello, the task looks too complicated and I resort to playing Patience to clear my mind. Trello has put paid to that.
It works with boards for different projects. Each project allows you to add lists and then cards. You simply move the cards between the lists to keep track of what is happening. For example, if you are travelling, you can make a board, add lists for different places you plan to visit, and add cards to the various lists with relevant information about people, places to visit, or other information. You can add checklists, photos, and other attachments. The site is fully mobile so  you can access your boards on your smartphone as well. Perhaps you like cooking. You can add cards for different dishes and then move them between lists for specific days. Or add varieties of dishes under a list called Pasta, for example. The sky is the limit.
Keeping Focused, something we have to work on daily in our personal and business lives. Click To Tweet
I love Trello and use its different boards to keep track of my books and courses, my Israel tour, workflow, recipes, and a lot more. The thing I like best about it is that it is so graphic. You can keep the same kind of information on a spreadsheet, but Trello brings it to life. I love moving the little cards around and colour-coding them.
The software is free and very powerful to use when you know how. I have a special video course available to help folks get to know it quickly. If you want to know more, click on the link below.

It's definitely a way to get more done! Try it. #procrastinationmustfall
Val
www.valwaldeck.com – Reaching Our Generation One Book at a Time
Author | Bible Teacher | Blogger