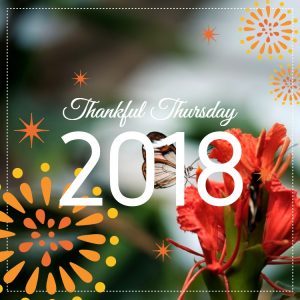 It's a little late, being Sunday already, but I am still thankful for all the Lord's blessings this week.
Seven lepers were healed… one returned to give thanks and the Lord took notice of that. He was so pleased He took time out to commend the man."So Jesus answered and said, 'Were there not ten cleansed? But where are the nine? Were there not any found who returned to give glory to God except this foreigner?' And He said to him, 'Arise, go your way. Your faith has made you well'" Luke 17:17-19.
What extra blessing did this man receive the others missed out on? Think about it. May the Lord inspire us to cultivate a Gratitude Attitude as we become conscious of His Hand on our lives. It will have its own reward.
Here are my seven areas of rejoicing this week!
Thanks for lovely weather in Durban, South Africa. I love to walk outside in the magnificent warm weather, enjoying the African sunshine and feeling its warmth. When I see the awful weather experienced in so many parts of our world right now, I am especially thankful for this great blessing.
I'm thankful for the grand old hymns of the Church. How I enjoyed singing "Guide me, O, Thou Great Jehovah" with the congregation at St. George's Presbyterian Church, Bluff, Durban. The bonus was we got to sing it two weeks in a row with enthusiasm and wooma!
I'm thankful for the lovely birds just outside my office window. I hear them chirping and enjoying their birdseed and birdbath as I work.
I'm filled with gratitude that my eyes can see them and my ears can hear their sound. I don't take that lightly.
Thankful for good books that take us into another world, inspire, motivate, and encourage us.
Thankful for my Kindle which allows me to carry all my favourites with me and read any or part of them, without losing my place. Any time I open a particualr book, it picks up where I left off. What a pleasure.
Thankful for the morning newspaper, TV news, and internet access that keeps me up-to-date with current events as they happen.
What are you thankful for?
Val
www.valwaldeck.com – Reaching Our Generation One Book at a Time
Author | Bible Teacher | Blogger