The A-Z Challenge 2018
Motivation from the Good Book
The Secret of True Riches
Riches won't help on the day of judgment,
but right living can save you from death.
Proverbs 11:4
True Riches Have Eternal Value
There are some folk who have riches as their goal in life. Someone commented that those who have riches as their purpose for living often work hard and long to get wealth. They want to live a great lifestyle and bless their families, but neglect them while they focus on riches. Their relationships suffer. When they want to start connecting with their spouses and children, it is too late. Their families have moved on and loneliness is their only reward. They missed all the excitement of shared experiences. Their health also suffers and they have to spend the rest of their lives paying expensive medical bills.
Far better to put money in its place, along with all the other issues of life, and serve the Lord. He promises those who walk in His Wisdom will enjoy true riches, enduring wealth, and justice. "Those who love Me inherit wealth. I will fill their treasuries" Proverbs 8:21. Right living will save us from eternal death.
Riches will mean nothing on the Day of Judgment
How can money compare with the joy of spending Eternity in Heaven with the Lord? The Day of Judgment holds no terrors for those who walk with Him.  "And what do you benefit if you gain the whole world but lose your own soul?" Mark 8:36.
The secret of true riches is the live for the Lord and trust Him for His Provision. The coin is in the fish's mouth! (Matthew 17:24-27)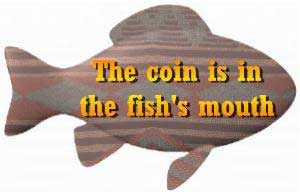 Trust the Lord for Your Provision. The coin is in the fish's mouth. Matthew 17:24-27.
Click To Tweet
Val
Author | Bible Teacher | Blogger