How To Publish A Kindle Book

Let me help you publish your book, ebook and/or special reports in the popular Amazon Kindle Store.
The Kindle eReader has become the most gifted item in Amazon's history. By some estimates, sales for Amazon's Kindle eBook reader topped 8 million last year. It took the iPod and iTunes many years to become the number one music retailer in the US. The Kindle has overtaken the competition in just two years.
There are roughly a billion computers on the planet connected to the internet and about four billion mobile devices, the majority of which can read eBooks in numerous formats – including Kindle – using free software.
Why shouldn't you be the next Kindle Best Seller?
Kindle books have to be properly formatted to read well in electronic devices. This is an area of expertise for me and I have a number of Kindle books in the Amazon Store.
Learn this valuable skill. Click here for more information.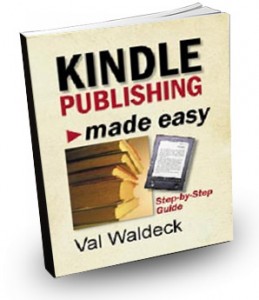 Publishing a Kindle book will open the door to amazing opportunities in the online publishing world and help you become known as an AUTHORity in your field of expertise.
To Your Future Success in the growing World of Kindle Books.
Val Waldeck