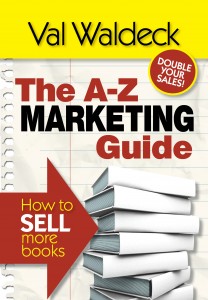 Kindle | eBook      Just Published!
The A-Z Marketing book is all about marketing and getting your book noticed. Authors are notoriously introverts and marketing and promoting their books is a scary process. Of course, this valuable information will be useful in the promotion of any product.
Every Author is an Entrepreneur. We know that merely writing a book – and even publishing it – won't necessarily bring readers. We have to develop marketing skills.
---
"If you don't tell them, they won't come!"
The writer of the Book of Ecclesiastes said, "Of making many books there is no end" (Ecclesiastes 12:12, The Bible).
"Making them" is the first part of the journey. Selling and distributing your books is the next step. Social Media and the Internet have made this task so much easier and enabled us to reach a global audience in a very short time.
The A to Z Marketing Guide will point you in the right direction. It is not an exhaustive guide, but the information in this book will be invaluable to you, providing you with marketing strategies to help you sell more books.
I enjoyed writing it from my own experience with these networks.

P.S. Please leave a comment (below). Thanks.

Get more information on the various Social Media networks with my very powerful online video tutorials showing you step-by-step how to make the best use of Social Media to share your message. You can find more information by clicking HERE.
Premier Coaching for Authors
Publishing Tutorials
Marketing Tutorials
Author | Bible Teacher | Blogger