Choosing the right Amazon categories for your books is absolutely essential because categories give your book visibility, which is the single best marketing tool you can get your hands on.
---
Say you're a beginning author with no extensive mailing list, nor a very big author platform. In other words, you don't have much of an audience yet. How on earth do you get your book out there? How do you get it noticed among the other hundreds of books published that day? The answer is, Get it listed in popular and searched for categories, which makes it possible that your book may be listed alongside titles of well-established authors, giving you enormous exposure.
Finding the right category can be quite a task, especially when you are faced with tons of choices on the Amazon Kindle and CreateSpace websites. To go through them all takes lots of time and we tend to choose the first one that appeals to us.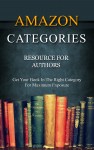 To solve this time-consuming problem, I prepared a list of all the Amazon Kindle categories, as well as the BISAC categories used by CreateSpace. This has been so helpful to me that I want to share it with you as well. It will definitely save you time, frustration and stress!
Click HERE for more information about this "must have" resource.

Author | Bible Teacher | Blogger