Evernote Video Training PLR

This year I am focusing on being more productive and efficient. That is why I love Evernote. It is one of my favourite tools and I use it almost every day. It keeps track of all the articles, notes, receipts, and a host of other things so I don't have to search through my computer or email to find important information or research material. If I like the look of a blog page, for example, I save it to Evernote and examine it later at my leisure.
I only wish I had discovered long ago how to really use this tool effectively and that is why I am so delighted to have come across the Evernote Video Training PLR. This is a 20-Part video series that takes you by the hand and teaches everything you need to know. I thought you might enjoy this powerful tool as well.
The best thing about it is the price! Check it out here: Evernote Video Training Series.
Another fabulous benefit of the Video Training PLR is that you are permitted to not only learn from this superb training, but also to sell it and keep all the profits! Not a bad deal at all. The PLR license allows you to keep 100% profits on every sale so you can recoup your finances with ease. It even comes complete with a sales page and graphics.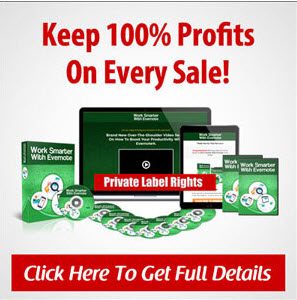 Here's what is covered in the training:
Getting started with Evernote.
Valuable tips.
Setting it up on your PC for maximum efficiency.
Using it on your mobile phone and access it anytime and anywhere you wish.
Share files, notes and many other cool things with other people.
Scan documents and share them on Evernote.
Using voice notes and dictation to increase productivity.
Taking notes, organize your files and integrate them with your calendar.
Integrations with services like WordPress, Trello, Pinterest, Twitter, Google Drive, Zapier and IFTTT.
And much more!
I have been very busy writing a new book and this tool saved me hours of searching for information I researched. It was so easy just to clip it to Evernote with the special little browser addon and file it under specific names. What a pleasure. It's a great way to unclutter your life.
Click here for more information about the Video Training Series
This is not my product, so I am pointing you to the developers of the video training. I highly recommend it to everyone who keeps any kind of information. A step towards a really paperless society!
To a Truly Productive New Year!
Author | Bible Teacher | Blogger