Share Your Message Via Audio
SHARE YOUR MESSAGE VIA AUDIO

Hi, my name is D'vorah Lansky and I am excited to share this blog post, on the topic of Digital Publishing, with you. I'd like to thank Val for hosting me during this virtual tour, in honor of Digital Publishing Virtual Summit, where we feature 20 world-renowned book marketing experts.
I'm excited to share this exciting topic with you and extend a warm invitation for you to enjoy each article and interview on this virtual tour as well as attend this virtual summit with us.
As an author, providing ways for your audience to connect with you and hear the message of your book will grow your business and increase your book sales.
You can create audios of:
Your book being read aloud
Tips on your topic
Interviews with industry experts
You can create audio recordings using software on your computer or you can create interactive audio events with teleseminars. Teleseminars (conference calls) are a fantastic way to generate rich, audio recordings. You invite people to call in to a bridge line or conference call line, or go to a webcast page, and listen in to the call. The call can be a presentation, an interview, a course, and more. Teleseminars provide you with a platform to easily reach and connect with your audience.
Teleseminars also provide you with the raw material, which you can repurpose to create additional books as well as a wide variety of additional, multimedia products and programs. From audio recordings which can be sold as MP3 downloads, to an eCourse or eBook created from the audio transcripts, from a video trailer or video book to a digital video course, the possibilities are seemingly endless.
Repurposing is the act of turning content from one form of media, into another. You can use repurposed content to give away in order to grow your list or reach, or you can sell it in order to create additional streams of income.
For example, you may:
Turn a text product into an audio product.
Transcribe an audio product into a text product.
Turn an article into a video.
Turn a video into an audio.
Teleseminars allow your audience to hear your voice, and will make a huge difference in how you connect with them to build an ongoing relationship. Instead of spending money traveling to give an in-person presentation, you can meet your customers and prospects right where they are, anywhere in the world.
Teleseminars provide you with a powerful way to:
Share the message of your book and develop a following
Provide a platform for a book study program
Offer an online seminar or course based on the content of your book
Offer group phone coaching sessions or Q&A calls
Interview experts and share their knowledge with your audience
Create material that can be repurposed
Teleseminars offer a simple and effective way for you to reach your audience, grow your credibility, create repurposed products, and sell more books! Teleseminars are easy to conduct and record and are easily accessible to your audience. If you would like to share your message with the masses while creating multiple steams of income, you will want to participate in teleseminars.
Do you conduct or participate in teleseminars or do you want to know more about teleseminars? Scroll down to share your thoughts below.
If you'd like to learn more about digital publishing; how it's grown and where it's going, join us for the Digital Publishing Virtual Summit where Val will be leading a workshop entitled: Extending Your Reach as An Author.
Learn how to make your book available in various formats so everyone may enjoy it. Reach the global community wherever they are … on their ipad, iphone, smartphone, Kindle reader, computer, etc.
Join Val (and enjoy 20 power-packed sessions) at this year's Digital Publishing Virtual Summit. Listen in for free at: Digital Publishing Virtual Summit
~.~.~.~.~.~.
Enjoy this Digital Publishing Virtual Tour! May the gems gleaned aid you on your path as you share your message with audiences across the globe!
If you are interested in the topic of Digital Publishing, consider joining us for the Digital Publishing Virtual Summit! Check out this impressive group of world-renowned experts at: Digital Publishing Virtual Summit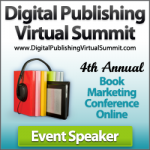 D'vorah Lansky, M.Ed., has been marketing online and mentoring leaders since 1994. She is the bestselling author of Book Marketing Made Easy: Simple Strategies for Selling Your Nonfiction Book Online.
She is the producer of the annual Book Marketing Conference Online and this year's Digital Publishing Virtual Summit, as well as the founder of the Book Marketing Alliance and the Book Marketing Made Easy Academy. D'vorah coaches and trains authors around the globe, in online book marketing practices.
Join us for the Digital Publishing Virtual Summit! Listen as 20 world-renowned experts share their wisdom.